Taiwan, UK national libraries ink academic cooperation pact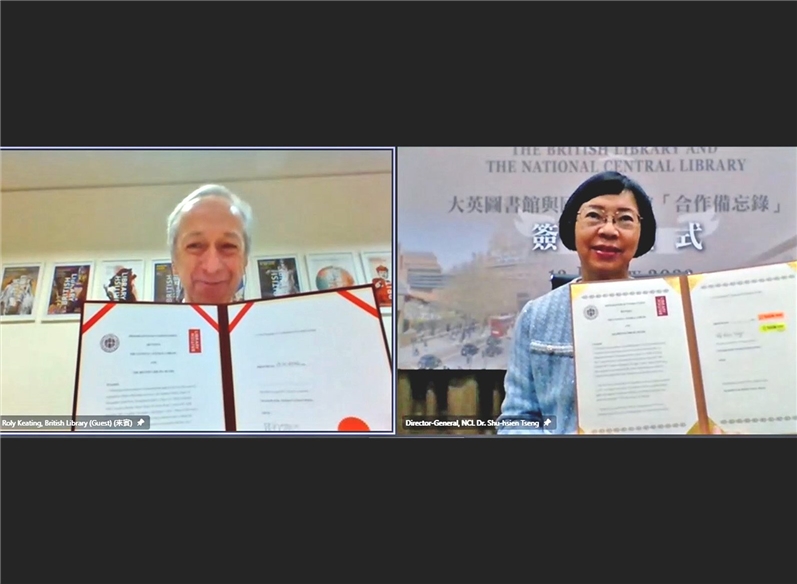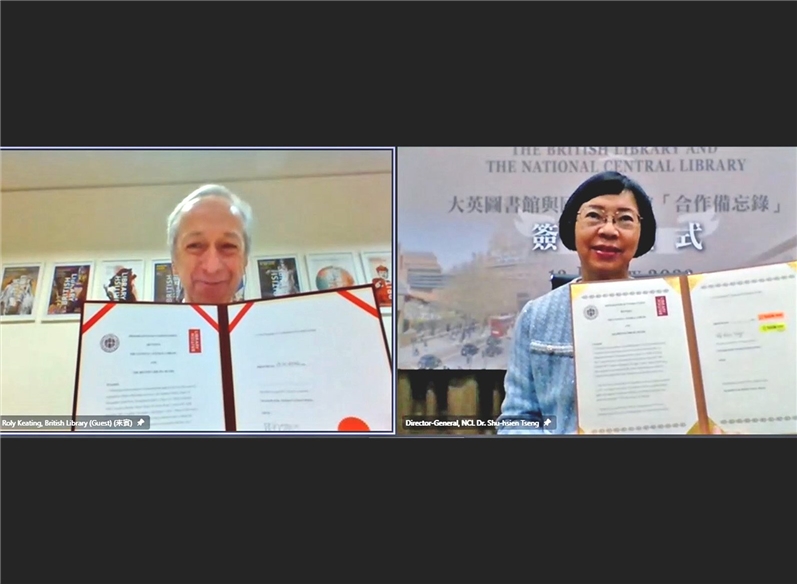 Tseng Shu-hsien (right), director general of Taiwan's National Central Library, and British Library Chief Executive Roly Keating display the memorandum of understanding on academic cooperation Jan. 13 during a virtual signing ceremony. (Courtesy of NCL)
—–
Taiwan's National Central Library and the British Library inked a memorandum of understanding on academic cooperation Jan. 13, spotlighting government efforts to boost bilateral cultural exchanges, according to the NCL.
Overseen by Kelly Wu-chiao Hsieh, head of Taipei Representative Office in the U.K., and British Office Taipei Rep. John Dennis, the signing was completed by NCL Director General Tseng Shu-hsien and BL Chief Executive Roly Keating. The three-year agreement lays the foundations for collaboration on issues like digitization of Chinese collections, joint research and exhibitions, and staging seminars and workshops on restoration.
Hsieh, who described the pact as a strong step forward in Taiwan-U.K. relations, said it will also play a key role in raising the country's profile among members of the international academic community.
Echoing Hsieh's remarks, Dennis praised the NCL's abundant classic Chinese book collections and said he was glad that such a development was unimpeded by the pandemic.
According to Tseng, the wide-ranging agreement springboards off successful cooperation between the facilities in 2013 and 2015. It further demonstrates the value of Taiwan's soft power as an effective way of expanding resource sharing for academics from both sides, she said.
In response, Keating said there is widespread anticipation regarding the effectiveness and potential applications of two-way projects set to take place under the pact.
Established in 1933, NCL features diverse collections of Chinese books and abundant resources for related studies. Organizational objectives include conserving important cultural assets, facilitating scholarly communication and supporting Taiwan libraries in growing global exchanges. (YCH-E)
Source: Taiwan Today