As the co-chairs of the British-Taiwanese All-Party Parliamentary Group, we are dismayed to learn that members of East Asian Olympic Committee (EAOC) voted in an extraordinary Council meeting in Beijing on 24 July to revoke the right of Taichung City to host the first-ever East Asian Youth Games (EAYG) in Taiwan from 24 to 31 August in 2019.
This resolution not only ignores the rights of the 2,300 athletes and delegation members from the nine countries and regions in East Asia, but also violates the Olympic spirit that athletes from countries and regions around the world should conduct exchanges through fair competition. It also violates the EAOC's Constitution, which stipulated "to promote the Olympic Movement in East Asia" as its mission.
Moreover, the Taichung City Government has always honoured the Host City Contract and not been informed of any failures to fulfil any of its contractual obligations over the past three years. Also, the EAOC never mentioned what terms were allegedly violated in the letter sent to the Taichung City Government on 25 July.
The world of sports has no borders, and athletic exchanges are the ideal venue to help different countries and peoples get to know each other and promote international harmony. Since being awarded the hosting right in 2014, the Taichung City Government has been preparing for the EAYG. With the date of the competition approaching, China's boycott to pressure the EAOC into passing a resolution to cancel the Games is hasty and extremely unfair to the host city.
For many years China's government has repeatedly used every means at its disposal to limit Taiwan's space for international participation. From the recent case of pressuring international airlines to change Taiwan's designation to this unfair resolution made by the EAOC, it is obvious that China's politically motivated pressure has expanded to non-political areas. Thus, in order to protect the rights of athletes as well as safeguard the Olympic spirit, there is a need for EAOC Council to resolve this dispute with Taiwan through amicable consultation and resume the hosting right of Taichung City as soon as possible.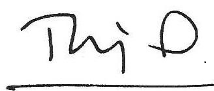 Nigel Evans MP                             Lord Rogan