As the co-chairs of the British-Taiwanese All-Party Parliamentary Group, we wholly support Taiwan President Tsai Ing-wen's firm position to bolster Taiwan as a fully-fledged democracy which shares understanding on universal values such as freedom, respect for human rights, and the rule of law with the UK and countries around the world. We also understand that the vast majority of people in Taiwan form a consensus that resolutely opposes "one country, two systems".
We regard any threat or intimidation in the Taiwan Strait as irresponsible, and want to ensure that action taken in the Taiwan Strait does not threaten cross-strait relations and status quo. Maintaining prosperity and stability in the East Asian region is in the common interest of all parties concerned, we therefore wish to see China and Taiwan cooperate fully on areas of common interest, while respecting the firm commitment of Taiwan's 23 million people to freedom and democracy.
In the future, we look forward to China and Taiwan working together to ensure respect on both sides, particularly in the ability for both countries to have their voices heard in international fora such as the World Health Organization and the International Civil Aviation Organization.
Therefore, we call on China and Taiwan to restore dialogue and consultations with each other on the basis of mutual respect in order to ensure regional peace and stability.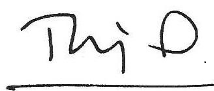 Nigel Evans MP                             Lord Rogan                                                               
Posted on 11 January 2019 at 9.22 am